Just this Monday, Uber's CEO Dara Khosrowshahi told CNBC that the on-demand ride company is considering joining the cannabis delivery pie soon, "when the road is clear".
"When federal laws come into play, we're absolutely going to take a look at it," he said. These comments were made when they were discussing the company's acquisition just this February of Drizly, an alcohol delivery service based in Boston. However, the $1.1 billion acquisition didn't include Lantern, a pot cannabis delivery business that Drizly established last May 2020. For now, Lantern will be in business independently.
The problem is that cannabis remains illegal federally even if over 3 dozen states have already decriminalized the drug.
"Wherever you want to go and whatever you need to get, our goal at Uber is to make people's lives a little bit easier. That's why we've been branching into new categories like groceries, prescriptions and now, alcohol," he said. "By bringing Drizly into the Uber family, we can accelerate that trajectory by exposing Drizly to the Uber audience and expanding its geographic presence into our global footprint in the years ahead."

Uber didn't comment about what Khosrowshahi said, but for the near future, he says Uber will still be focusing on their deliveries. "For right now with grocery, with food, with alcohol, etc… we see so much opportunity out there and we're going to focus on the opportunity at hand."
"When the road is clear for cannabis, when federal laws come into play, we're absolutely going to take a look at it," he told TechCheck in a separate interview.
Cannabis Customers Are A Lucrative Demographic
These days, it seems like companies of all kinds want to target cannabis companies. It's a great shift as in the past, stoners were classified into stereotypes that were along the lines of lazy couch potatoes with no class.
That's changing big time. In fact, cannabis customers have become such an attractive demographic that tech and consumer-goods companies are courting them. These comments by Uber's CEO is not the first attempt at attracting them; late last year, they hired Fyllo, a cannabis advertiser, in order to attract cannabis users when they were marketing Uber Eats.

 
"A cannabis consumer is younger than the normal consumer has more disposable income; they are busier than most, they are working all the time, exercising all the time, going on adventures all the time," says Uber's global media head, Travis Freeman, in an interview. And they were right; when they targeted cannabis users, they discovered that they are indeed more likely to watch video ads compared to average consumers.
Cannabis Makes Sense
It only makes total sense for Uber to eventually deliver cannabis. Aside from the skyrocketing demand, their drivers are also spending time delivering weed.
For the majority of last year, drivers employed by Uber as well as Lyft had less work because of the pandemic which kept people home. However, this year, more people began going out because of the vaccine and these ride on-demand companies can already start to see a return to business quite soon.
The issue is that a great deal of drivers who are working for them are no longer active, or even checked into the app platforms. App analytics firm Apptopia shared data that the quantity of daily active users on Uber and Lyft for the driver-only side revealed a 37.5% and 42.3% drop respectively compared to the prior year. What's interesting is that in California at least, a San Francisco Chronicle article discussed that Uber and Lyft drivers in the state have reduced their hours to deliver cannabis.
There was a cannabis company in the Bay Area that even said they were able to pirate 100 drivers from the ride-sharing apps.
So, why the change of heart? Well, drivers who deliver cannabis are required to be employed full-time according to California regulations that were approved in January. For this reason, the drivers will get not just an automatic hourly rate but also medical leaves and overtime pay. There are also some dispensaries that offer a 401k, medical insurance, plus vacation days all in effort to attract more drivers.
On the other hand, when they work for rideshare apps, they don't have any of these benefits.
Delivery Is The Hottest Revenue Stream
There's no doubt that the pandemic highlighted the importance of cannabis delivery, and this is reflecting in companies' revenue streams. But even prior to the pandemic, delivery services were already seeing good revenue.
Early this year, a report by ArcView Market Research together with BDS Analytics stated: "The cannabis industry continues to skyrocket as it's legalized across the country and other parts of the world. As the industry surges forward, new laws help change how cannabis businesses provide for their customers. Cannabis delivery, for example, is heating up across California for the canna-businesses that took the next big step early and got a delivery license… After California legalized statewide cannabis delivery, it removed the previous regulations that prevented the legal access to cannabis delivery across the state."
California and other states that legalized pot are already seeing a major uptick in business thanks to the convenience of delivering cannabis to peoples' doorsteps. There is no doubt that it's the next big thing in cannabis business, plus deliveries can also help existing retailers who open up more channels for customers to order their products through delivery.
Additionally, starting a cannabis delivery service is a great way for entrepreneurs to enter the business. It can be affordable to start a delivery service and it's an excellent opportunity to provide great one on one service for your customers.
Having said that, it makes complete sense for ridesharing apps like Uber to join in on cannabis delivery sooner rather than later.
MARIJUANA DELIVERY SERVICES EXPLAINED, READ THESE…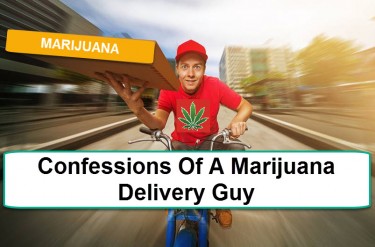 CONFESSIONS OF A MARIJUANA DELIVERY GUY, READ THIS!
OR..
DELIVERY VS. DISPENSARY MARIJUANA SERVICES, WHICH IS BETTER?