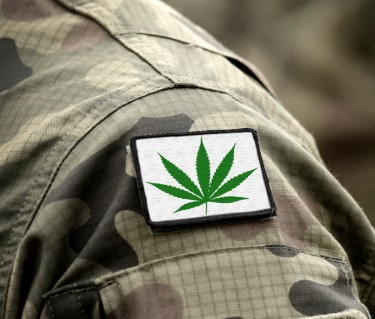 Fighting on the front lines can have different types of effects for soldiers who are bravely representing their country. We see this firsthand in the different psychological and physical issues a lot of veterans come back home with after they are back from a tour or special assignments. Many of these veterans have identified the mental and wellness effects of cannabinoids in cannabis to be very helpful to deal with some of these issues. This is mainly because of the entourage effect of the cannabinoids and wellness and calming effect of special cannabinoids like CBD.
Unfortunately, assess to medical marijuana programs is not that simple for veterans as it is for civilians in states where cannabis use is legal for adult use or medical use. The illegality of cannabis at the federal level following its classification as a Schedule I drug means that veterans are barred from having access to it. Several studies have shown the effect of cannabis in dealing with PTSD, insomnia, and other mental health issues common to such a line of work. Nonetheless, the FDA is still not budging anytime soon meaning veterans will have to find a safe and legal way to have access to the natural product for their medicinal needs.
Some organizations have seen the need to rise and help the situation around the use and access to cannabis for veterans. This organization aims to call for reform of cannabis laws and change the prohibition and stigma attached to the natural herb. Such reforms will also include open access to medical marijuana programs for veterans and it is fitting that many of these organizations are being led by veterans who can relate to the struggle.
Here is a closer look into 5 cannabis brands and organizations that are supporting veterans.
Veterans for Holistic Alternatives (VAHA)
First on the list is the Veterans for Holistic Alternatives (VAHA) brand which was founded by veteran Gary Hess. As the name suggests, the brand is set to look for new and improved ways to help veterans deal with their physical and mental issues following service. One of the major forms the brands have identified as a viable alternative approach is the use of cannabis and cannabis products. The effects of cannabis in dealing with pain relief are also a major proponent for the move by VAHA to advocate for open access to medical marijuana programs for veterans. The group has established numerous ways to see the vision of open access come to life. Some of these include educational research (which is the bedrock of progress for legalization), volunteer support, and policy reforms. The organization is also set to provide resources to empower veterans in accessing medical marijuana.
MOTA Glass
Support for veterans is not limited to advocating for reforms only as there are brands that are making stronger moves to show their appreciation and support for veterans through the cannabis industry. This is the role of the second brand under this list which is MOTA glass in Los Angeles. Owned by a veteran himself, MOTA glass is a cannabis brand that specializes in making glassware and accessories used for cannabis and cannabis products. Examples include bongs, glass pipes, and accessories. The brand only launched in November 2020 and has since grown considerably in the cannabis industry in Los Angeles. The brand has shown considerable support for veterans by hiring them to work in its retail stores. The brand has also established a 25% discount for military personnel to further help veterans in accessing cannabis products for medical purposes.
Platinum Vapes
The issues faced by veterans include and are not limited to mental and physical health problems alone. This is why some brands that are seeking to aid veterans in accessing cannabis for medical problems are also addressing other socioeconomic problems they are facing. Platinum vapes is a special brand that supports veterans holistically in a number of ways. A percentage of the proceeds of the brand's REACT cartridge lines is donated towards different charities. This includes special charities for veterans like Shelter to Soldier. The brand also uses some of its donations to address general issues plaguing veterans such as homelessness, family support, and general health wellness. Medical marijuana is one of the features to assist in general health wellness and promote overall mental and physical health for veterans. This is why the brand is also advocating for reforms to cannabis laws and better access for veterans.
Veterans Cannabis Coalition (VCC)
Veteran Eric Goepel founded the Veteran Cannabis Coalition a support organization that seeks to end the stereotype structured around cannabis use. One of the major delimiting factors against cannabis legislation has always been the stigma around the use as many believe cannabis users are crack heads. Veterans Cannabis Coalition seeks to use reforms and educational research to bring an end to this stigma. The coalition has set out to use policy initiatives and advocacy to help get full and legal access to medicinal cannabis for veterans nationwide. The coalition also has another arm called the Veterans Compassion Network which is saddled with the responsibility of seeking for and making donations for cannabis to military veterans staying in California.
Santa Cruz Veterans Alliance (SCVA)
The final organization in our list of 5 brands and organizations supporting full access for cannabis for veterans is the Santa Cruz Veterans Alliance. The alliance is a group of military veterans who are based in California and pushing for reforms in cannabis laws to enable full access. The company uses its Veteran Cannabis Program to provide free cannabis that has undergone lab testing to over 100 veterans monthly. This helps the veterans to deal with myriads of mental and physical health problems. The alliance also teaches veterans cultivation processes for cannabis under its horticulture therapy sessions. Acceptance to enable donations for medical cannabis products requires such veterans to have proof of veteran status and doctor's recommendation for medical cannabis products.
MEDICAL CANNABIS AND VETERANS, READ MORE…
MEDICAL MARIJUANA APPROVED FOR VETERANS BY THE SENATE COMMITTEE